IN MEMORIAM: A TRIBUTE TO TOM HAMILTON.
Click the PROFILES tab above for story.

---
VIRGIL SMYTH 2017's EOWA CARVER OF THE YEAR!
Click the PROFILES Tab above for story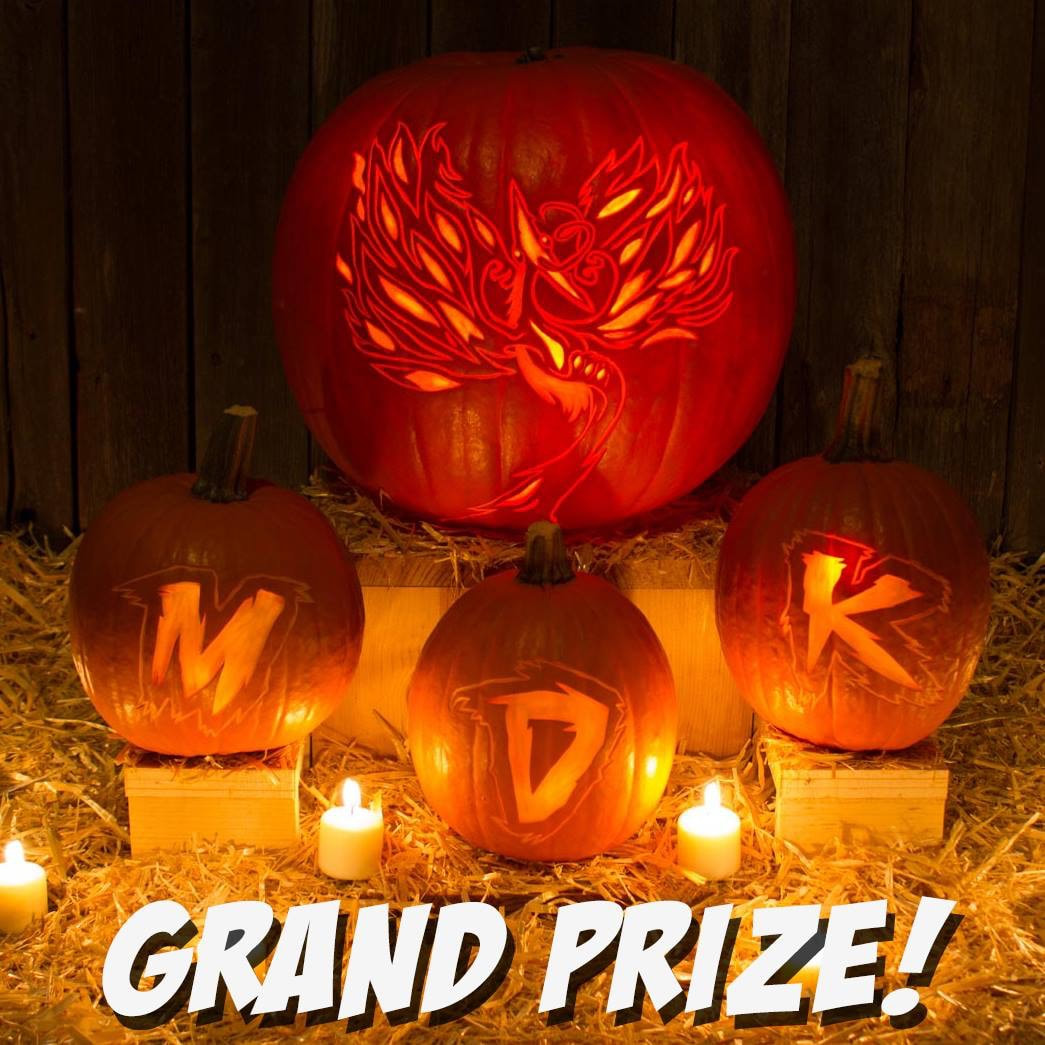 WOODCARVER, ELIJAH SCHARPF, WINS PUMPKIN CARVING GRAND PRIZE.

Nineteen-year-old Elijah Scharpf, a member of the Eastern Oklahoma Woodcarvers Association, decided to try his hand at carving pumpkins when a local musician/record producer promoted the contest to pitch his new album. Scharpf, a fan of the producer's music, thought it would be fun to enter and see if he could capture the top prize. Among the prize surprise were tee shirts a hat and other items. The Braggin' rights weren't bad either!

---
FIRST PLACE WINNERS
BY CATEGORY AT
THE 2017 FOLK ARTS FESTIVAL & WOODCARVERS SHOW & SALE in
BROKEN ARROW, OK


---
HOLIDAY - Ray North


SEMINAR - Richard Dalke


SCROLL SAW - Gail Musser


PYROGRAPHY, UNPAINTED -
Dian Whalen


HOLLOW VESSEL - Jerry Heath


GOUGE CARVING -
Warren Rauscher

CAROUSEL - John Fallon


CANES - Richard Dalke


RELIGIOUS - Ray North


BE SURE TO VISIT OUR YOU TUBE SECTION. YOU CAN SEE ALL KINDS OF WOODCARVING TECHNIQUES. A GREAT WAY TO LEARN.


---

TURNED OBJECT- Pat Collins


SPINDLE TURN -Larry Exendine


REALISTIC GROUP-MIXED -
Claus Carlson


PYROGRAPHY, PAINTED -
Cheri Bednark


HIGH RELIEF - Walt Wharton


FLORAL - Ray North


BIRDS - Bill Payne


REALISTIC - Carl Carnahan


UNUSUAL WOODS-Richard Dalke


STYLIZED - Ray North


MISCELLANEOUS - John Fallon


HUMAN BUST - Walt Wharton


HUMAN FIGURE - Alice Amend


CHIP CARVING - Warren Rauscher


CARICATURE, MIXED -
Tom Hamilton


BOWLS - Paul Edgington


MARINE - James Stanford


MINIATURE, & EXHIBITORS CHOICE- Dale Burk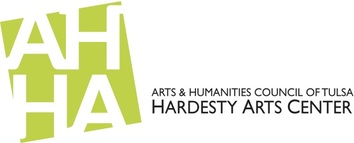 "With a little help from our friends..."

We are indebted to the Tulsa Arts & Humanities Council for its assistance in helping make our Woodcarvers & Folk Art Festival possible. Thank you for all you do to encourage and enlarge artistic expression in our fair city and beyond.


Become a patron of the arts: Support the EOWA with your tax-deductible gft!!
Your tax-deductible gift of $30 will help us preserve, promote, and protect this ancient art form for future generations. You become an actual member of the Association, and receive email notices of upcoming editions of our monthly newsletter. You'll also be apprised of upcoming special guests at our monthly meetings.
Send your best gift to:
The Eastern Oklahoma Woodcarvers Association (EOWA)
P. O. Box 34, Broken Arrow, OK 74013
Thanks for helping promote the amazing art form of carving.

---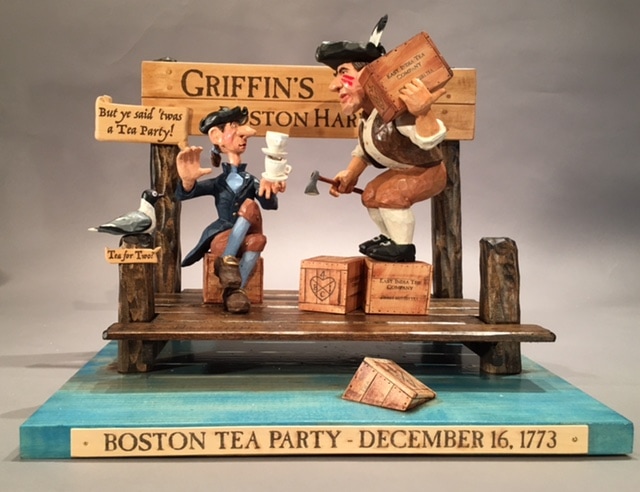 BLUE RIBBON WINNER--Rusty Johnson's "Boston Tea Party" carving swept all competitors in the Human Miniature category, to take top honors at the recent 52nd International Woodcarvers Congress.

RUSTY JOHNSON GARNERS TOP AWARDS AT THE 2017 INTERNATIONAL WOOD- CARVERS CONGRESS

One of Tulsa's international award-winning carvers, Rusty Johnson, has added yet more impressive accomplishments at this year's International Woodcarvers Congress. He took top honors, winning four blue ribbons. In perhaps the most difficult segment in carving competitions, the "Human Miniature," and "All Miniature" categories, he swept both.
Johnson, who loves and excels at caricatures, combined his keen sense of humor with his world class carving skills to to delicately render the humorous scenes pictured. And the judges were duly impressed.
A successful graphic designer, Johnson's road to international fame as a carver began some 20 years ago when he joined an area non-profit organization that offers free weekly "carve-ins" at the Central Center in Centennial Park near Tulsa's business district. "I was working on a complicated piece and getting nowhere so I joined the EOWA to learn about other tools I could use to carve,"
said Johnson.
Today, Rusty Johnson's skills and reputation place him among some of the nation's finest woodcarvers. After 20 years as a member of the organization, Rusty is actively involved in local carving competition. In addition to his involvement in local art-related organizations, he remains steadfast in his service to the Eastern Oklahoma Woodcarvers Association as its designer/writer/publisher of the group's 8-page, full color monthly newsletter.
Congratulations on your impressive win, Rusty, and thanks for all you do for the EOWA, and numerous art-related organizations in the State of Oklahoma.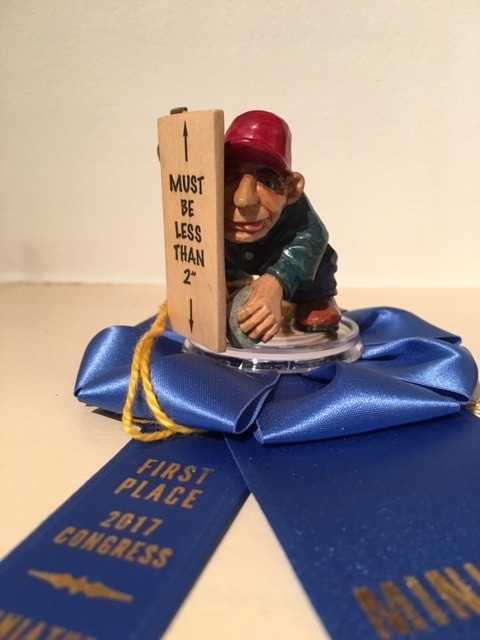 This playful carving by Rusty Johnson is just one of many examples of his wry sense of humor. While it brings a smile to everyone's face, it is never-the-less quite difficult to achieve, yet it appears effortless when watching him deftly bring a blank chunk of wood into a life-like caricature such as this. All entries had to be under two inches in height.

"A piece of free wood is a terrible thing to waste." Anonymous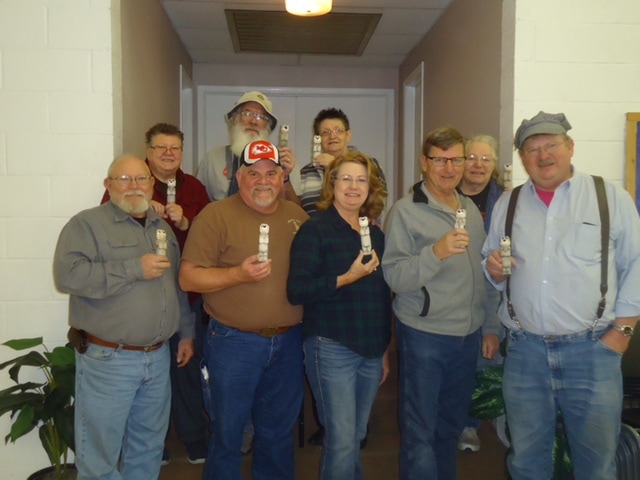 LOCAL CARVERS ATTEND RECENT THREE-DAY GREGG THOMPSON CARICATURE CARVING SEMINAR

Well-known woodcarver/instructor, Gregg Thompson, a 12-year guest-carver at Silver Dollar City, was in Tulsa, OK, recently to host a three-day intensive caricature seminar on behalf of the Eastern Oklahoma Woodcarvers Association.
Thompson, known for his friendly, relaxed style, kept attendees busy, taking time to provide individual help and instruction along the way. "I love to have fun in the classes I teach," says Thompson, who can regularly be found as one of the key instructors at such respected venues as the Ozarks Woodcarving Seminar, the Eureka School of the Arts, and the popular Gretna Retreat in Nebraska.
Thompson believes carvers learn and carve best in a relaxed, fun environment. Those in attendance couldn't agree more. Thompson is scheduled again for January 2018, with the EOWA for a special seminar in deep relief carving. If you're interested, you'd better register as early as possible after as the registration information is posted. He's a hot commodity!

BILL PAYNE REPRESENTS THE EOWA IN BROKEN ARROW'S ROSE ARTS DISTRICT AT THE
"YOUR DESIGN" GALLERY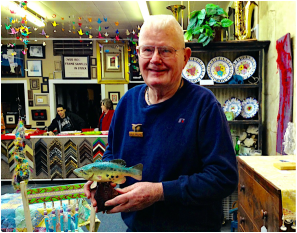 Veteran EOWA woodcarver, Bill Payne, exhibited select pieces of his fine work recently at Your Design, a small art gallery in Broken Arrow's Rose District. Bill's considerable prowess as a fine artist, is exceeded only by his character and willingness to help beginners learn the rudiments of the craft. He joined fledgling group of carvers back in 1975, less than a year after it was officially established. Since that time, he and his late wife Doris, have traveled to hundreds of woodcarving competitions in many states where they both competed with some of the nation's best. Bill is a regular at our free Thursday night Carve-In. Come join us. Bill Payne, Award-winning Woodcarver

---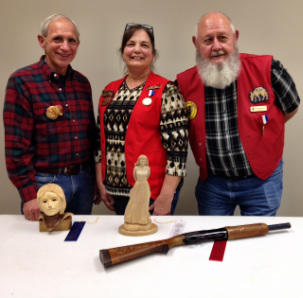 WOODCARVER OF THE YEAR, 2015

Dr. Bob Block (left) has been voted Woodcarver of the Year by his peers during the December 2015 meeting of the Eastern Oklahoma Woodcarvers Association. He edged out incoming president, Lori Hamilton who place second, and outgoing president, All Cross for the honor.
Congratulations, Dr. Bob, for your masterful effort on the realistic face carving.
Kudos to both Lori and Al for their creative wood art as well.

---
2015 EOWA Woodcarvers Show & Sale Celebrates 39 Years
Thanks to the Eastern Oklahoma Woodcarvers Association's Show Event Team, the 39th Annual Carvers Show and Sale in Tulsa, OK, was a successful event. But it didn't come easy! A spate of hot weather, traffic jams, construction projects that clogged major streets, keeping the public sitting in stop-and-go traffic, and an annual Tough Man Bicycle Race to captured a lions share of media coverage. In spite of such interference, respectable crowds came to the two-day affair, and lingered to view judging, carving contests, beginners carving instruction and live demonstrations of intarsia, woodcarving , and wood turning.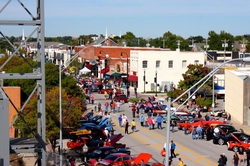 EOWA PRESENCE AT THE BA GRILLS & GRILLES CAR & MOTORCYCLE SHOW

Chilly morning temperatures failed to faze the excitement of members of The Eastern Oklahoma Woodcarvers Association October 18th during Broken Arrow's Grilles & Grills Car & Motorcycle Show, sponsored by Jim Norton Chevrolet, The Arts Council of Broken Arrow, the City of Broken Arrow, and FASTSIGNS, a graphics design shop of Broken Arrow, OK.
Bill Payne and Al Cross learned of the opportunity put out the call for volunteers.
In addition to their participation, they got commitments from Bill Hulsey, Roy Heginbotham, Elijah Scharpf and Ken Scrivner . These carvers set up at the Farmers Market Pavilion and were soon demonstrating their craft for crowds of people who initially came to see the more than 400 cars and motorcycles on display on what turned out to be a perfect fall day in Oklahoma. Several thousand spectators turned out for the event.

---
Al Cross, adds detail to a figure he is carving. Al is known for his outstanding carvings of old west characters.

Ready for a cutting-edge Hobby?